Wireless Two-Way Voice Keypad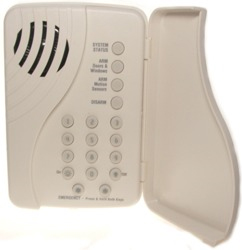 The wall-mounted wireless TouchTalk 2-Way RF Touchpad. Designed for use with Simon version 3.0, TouchTalk provides convenient system control plus voice feedback and system status. Features: Convenient light control and system operation. Runs on user-changeable alkaline batteries with typical life of 3 years. Use up to 24 sensors/touchpads per system. Quick and easy to install. Hinged door covers buttons when not in use.
The Touchtalk 2-Way RF Touchpad, an alkaline battery-powered wireless touchpad, is designed to give users an easy choice for the following system operations:
Arming the system (doors, windows, and motion sensors).
Arming the system with the option of No Entry Delay. Disarming the system.
Activating a panic alarm to call the central monitoring station in an emergency which is non-medical.
Check the system status.
Switch the system controlled lights on or off (all at the same time or individually).
Helps the user to listen to the voice feedback that is heard at the Simon 3 Control Panel.
The Touchpad is not controlled and has no tamper detection. A low battery condition is automatically detected by the touchpad and a signal is sent to the control panel. The voice feedback is heard by the touchpad that is in use alone. If the touchpad is in the process of talking, the panel remains silent, and vice versa. The touchpad is not designed to act as a siren and will not emit any alarm sounds or status beeps. This feature helps preserve battery life to the touchpad and gives feedback only to the user who requires it.
Specifications:
Color: White
Dimensions: 3.5" wide, 5.25" high, 1" deep Installation: Wall mounting Power requirements: 3 AAA alkaline batteries
Compatibility: Simon version 2.0
Systems & Sensors