Medical Security » Personal Emergency Response System (P.E.R.S.)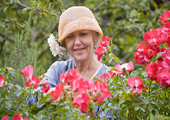 1. Peace of Mind
Inside or outside, if you fall, feel faint, have a medical emergency, smell smoke or hear an intruder, you are never alone, your 'help centre' operator will talk with you and send the assistance you need at a press of your personal 'button'. With your own personal emergency response system you can enjoy protection and peace of mind while you continue to live in your own home.
2. Independent Living
Live independently without ever feeling alone. Live longer in your own home, with dignity and independence and without fear. Maintain your safety, health and security by putting your own personal emergency response system to work for you.
3. Because You Worry And Because You Care
Who is there when you can't be? Whether you live a half of a block away or ½ a world away you can't always be there. With our Personal Emergency Response System your Mom and/or Dad will never be alone and will be connected to help - 24/7. Reduce your worries and increase your family safety and security.
About Personal Emergency Response Systems
D-tek-TION Security is a full service safety and security provider, it specializes in providing you with the security that best suits your personal and environmental needs. Our company works very closely with our community partners and as well we are a Blue Cross Services Provider and a Veterans' Affairs Vendor for personal emergency response systems.
Personal emergency response systems, or PERS, are personal home safety devices connecting you or a parent to a 24-hour call center with the push of a button. The transmitter, a small pendent is typically worn on a neck pendant or wristband, and it sends a signal to a receiver that's connected to the home telephone line. When the personal pendent button is pushed/activated the system immediately calls our Help Centre, where an operator speaks with you, evaluates the situation, and requests the assistance necessary whether an emergency service, family member, friend or neighbour. Our P.E.R.S. (Personal Emergency Response System) works inside or outside your home (on your property) and is used to call for help or request asistance whether it be for a medical concern, you smell smoke or think you hear an intruder. If you accidently activate your system – no problem, our Help Centre operator is 'there' 24/7 and will be happy just to hear from you and we like you to test your system regularly anyway!
Who Should Use It?
Seniors who live alone or are alone at times, people with medical conditions, people with difficulty walking or in danger of falling, patients recovering from a stroke or other hospital stay.
Family members providing care to their parents experience high levels of stress and worry. They are naturally torn between 'being there' for their children and 'being there' for their parents. In Canada, based on affordability and 'space' availability, there are over 2.5 million seniors living at home where the concern for their security and safety is a significant issue.
Outpatient programs supporting a patients' return to home when they can be, want to be and should be because of the accessibility of help through our Personal Response Emergency System.
Private and Public Health Care Services with limited resources are better able 'to set' daily priorities that address the needs of those who require their attention as opposed to driving needless hours to "just check" on a client (who is not requiring a personal visit).
A Canadian Five-Star Rated Company

Lock Box
D-tek-TION Security brings to you a great way to safely provide a key to emergency response personnel or to family or friends that stop by to check on you. We will fasten your lock box securely to the wall beside your door. It is a small heavy metal box with a clip inside that holds up to two keys. The mounting screws are located inside the safe itself to ensure that no-one can gain access to them except those who have a code to open the safe. Learn more...