Glass Breakage Detector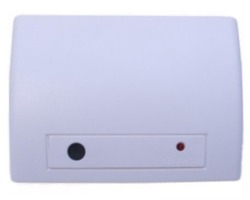 The Wireless ShatterPro™ Series provides excellent false alarm immunity without compromising detection. It is ideal for applications where hard wired acoustic sensors are impractical. The low-profile sensor housing accepts most wireless transmitters inside the back box. Each sensor also ships with a mounting bracket for larger transmitters.
The Wireless ShatterPro™ Series is based on Sentrol's field-proven Pattern Recognition Technology ™, which listens across the glassbreak frequency spectrum for greater false alarm immunity. This allows the sensor to detect breaking glass through blinds and light, unlined drapes. The 584503/584509 low current consumption makes it compatible with most wireless transmitters. It features a 20' (6.0 m) range from the sensor to the window. The Wireless ShatterPro™ Series is suitable for low-activity occupied areas on the perimeter loop.
Features:
Factory-set sensitivity for safer installation
Attractive, low-profile design
End-user can test sensor operation with a clap of the hands
20' radius range can protect an entire room with one sensor
Recognizes the actual pattern of glass breaking across the full audio band
Learn mode: ITI crystal transmitter in NX488 & 60-873-95
Compatible with most wireless transmitters (584503/584509)
Systems & Sensors