Medical Security - Personal Emergency Response System (P.E.R.S.)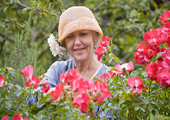 1. Peace of Mind
Inside or outside, if you fall, feel faint, have a medical emergency, smell smoke or hear an intruder, you are never alone, your 'help centre' operator will talk with you and send the assistance you need at a press of your personal 'button'. With your own personal emergency response system you can enjoy protection and peace of mind while you continue to live in your own home.
2. Independent Living
Live independently without ever feeling alone. Live longer in your own home, with dignity and independence and without fear. Maintain your safety, health and security by putting your own personal emergency response system to work for you.
3. Because You Worry And Because You Care
Who is there when you can't be? Whether you live a half of a block away or ½ a world away you can't always be there. With our Personal Emergency Response System your Mom and/or Dad will never be alone and will be connected to help - 24/7. Reduce your worries and increase your family safety and security.
Welcome to D-tek-TION Security's Medical Alarm System
Over 1,600,000 people throughout North America use Personal Emergency Response Systems to maintain their safety, improve their quality of life and to enable their continued independence within their own home environment. A recent study showed that, on average, the age of a senior entering a retirement institution (in the U.S.) is 79, while the average age of a person with a home medical security system entering a retirement facility is 85. That's' an extra 6 years of enjoyable, worry free and independent home living.
Pricing
Order any plan and receive a free gift! We offer both rental and purchase options. To order today, call us at 1-866-437-7233. Learn more...
How to Save
Would you pay $720 in equipment rental fees over three years? Or would you rather pay $175 to own the same equipment? Plus, get long-term medical alert monitoring for only $19.95 per month! Learn more...
Lock Box
D-tek-TION Security brings to you a great way to safely provide a key to emergency response personnel or to family or friends that stop by to check on you. We will fasten your lock box securely to the wall beside your door. It is a small heavy metal box with a clip inside that holds up to two keys. The mounting screws are located inside the safe itself to ensure that no-one can gain access to them except those who have a code to open the safe. Learn more...